Much of the cream of the crop of the IT industry worldwide has gathered in Seoul for the World IT Show, where cutting-edge IT companies from around the world show off their new technology and ideas in a variety of creative ways. Kicking off on May 15 at COEX in Seoul, the World IT Show claims to be the Korean version of the Consumer Electronics Show (CES), the world's largest electronics show held in Las Vegas. The World IT Show is Korea's biggest IT fair, hosted by many government organizations including the Ministry of Knowledge Economy, the Korea Communications Commission, and the Ministry of Culture, Sports and Tourism.

As it is an international business event, such potential consumers like overseas government organizations and buyers from emerging markets including Asian and South American countries are visiting the event. Last year, the event had 1,313 booths representing 500 companies from 19 nations and welcomed nearly 170,000 visitors in total.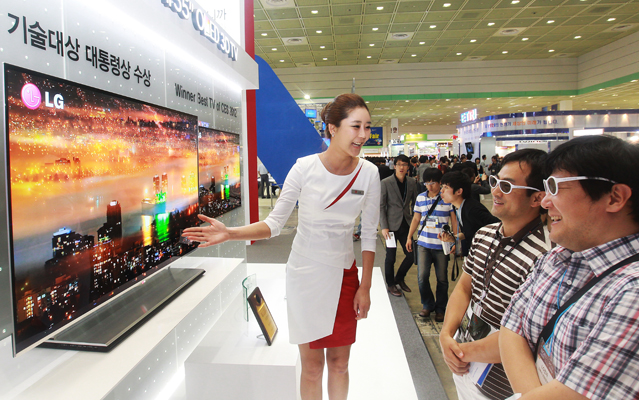 The categories of this year's event are divided into mobile/communication/broadcasting, computing/smart work, software/digital content, IT conversion, and industrial electronics at large. Each category also has its own special exhibition room.

Forecasting that the demand for TVs would increase in anticipation for the upcoming London Olympics, competition among smart TV manufacturers such as Samsung Electronics and LG Electronics has especially intensified at the World IT Show.

LG Electronics is revealing its 3D OLED TV to consumers in Korea, following its first unveiling during the CES in January this year. It shows off its Cinema 3D TV that has a cinema-format screen. By composing two 55-inch TVs, it can display 3D sports games and 3D music videos. Samsung Electronics reveals the world's largest 3D Smart TV, the ES9000 which boasts a 72-inch Black Diamond Panel, as well as a premium line of its TVs including the ES8000.

As more display devices adopt AMOLED panels rather than LEDs, materials manufacturers that deal with AMOLED panels including High Metal and Advanced Nano Products (ANP) are attracting attention at the event.

Companies that specialize in wireless charging of smartphones are also popular at the venue. Such wireless charging devices from RFTech and Clover Hitech are expected to apply not only to smartphones but also electric vehicles, expanding the range of applications.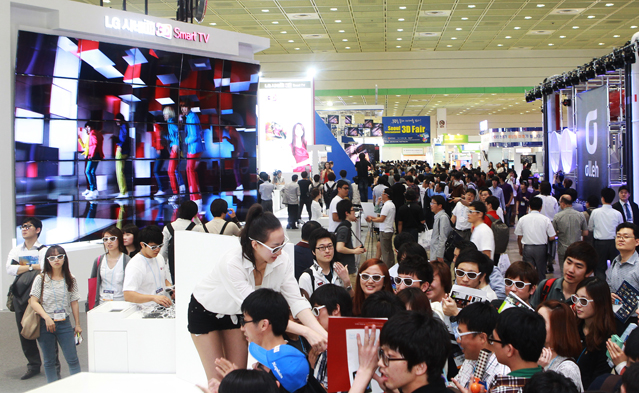 There are also spaces to see research results and trade technology or products from small and medium-sized enterprises. G-TEK and the Green Certification Hall represent IT products from small and medium-sized companies in Korea with support from the Korea Institute for Advancement of Technology (KIAT).

G-TEK features the results of R&D conducted by small and medium-sized companies, universities, and research institutes. Products that contain creative and unique ideas from 18 companies are displayed at G-TEK using 3D, virtual reality, and robotic technology.

One of the participating companies, RMS, features a 3D printer. Using various materials, 3D data in a computer can be printed as an actual shape through the 3D printer. One of the booths in G-TEK features a smart classroom solution that delivers the handwriting of students to parents or teachers in real-time through a special device with a monitor.

Telecommunication companies offer various programs and events. SK Telecom shows off its smart robot that was displayed at the Mobile World Congress 2012 in Spain. Using a smartphone as its CPU, the smart robot offers children education services.

KT offers Hallyu content, showing some famous K-pop singers on the main screen at the venue and playing requested music through its music application Genie. Its new anti-theft service that senses the location of a motorbike, tentatively named Olleh Bike, is also on display at the venue for visitors to try out.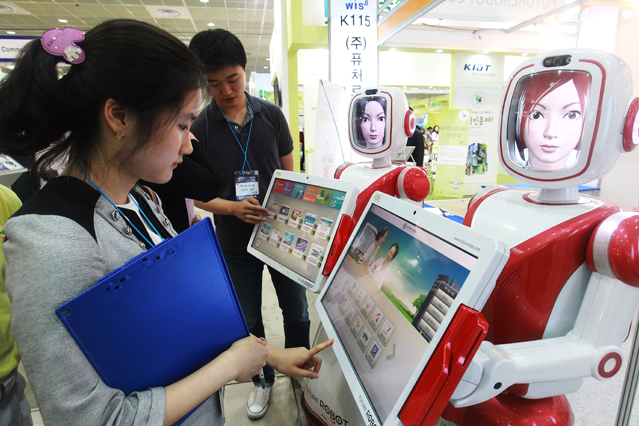 During the run of the World IT Show, some side events are simultaneously being held at the same venue such as the World Information and Communications Summit 2012, and the 8th Korea Communications Conference. With the theme "New Economy in a Connected Society," the World Information and Communications Summit 2012 was held on May 15. Attended by ministers of communication from 16 nations including Laos, Mongolia, and New Zealand, the summit mainly discussed the reinforcement of cooperation in the IT field among countries and Korea's advancement into overseas markets.
The 8th Korea Communications Conference is held from May 15 to 16. With the subject "Smart Broadcasting and Communication: Innovation and Evolution," the conference features keynote speeches from important figures such as CEO of KT Lee Suk-chae and Chief Executive Officer of Nokia Siemens Networks Rajeev Suri.
From May 15 to 18, the 2012 Seoul International 3D Fair will be held for the second time. The fair will feature various fields of 3D technology and devices from the entertainment sectors such as 3D films and animation to fields such as aerospace and national defense including a 3D seafloor search.
The World IT Show runs until May 18, and the entrance fee is 5,000 won for adults. Visit
http://www.worlditshow.co.kr/
for more information.
By Jessica Seoyoung Choi
Korea.net Staff Writer